Paymanager DSC Installation & ActiveX Setting
DSC (DIGITAL SIGN) INSTALLATION PROCESS & ACTIVEX  SETTING
नोट: डिजिटल साइन के द्वारा पे मेनेजर से बिल बनाने के लिए आपके कम्प्युटर या लैपटाप में WINDOW 10 और Internet Explorer Version 11 (IE-11) होना चाहिए। बिल डिजिटल साइन करते समय आपको केवल इंटरनेट एक्सप्लोरर पर ही कार्य करना हैं , अन्य ब्राउज़र से बिल साइन नहीं होंगे।
सर्वप्रथम DDO द्वारा बनाया गया DSC (E-PASS) MODEM को हमारे सिस्टम में Install करेंगे DSC को USB PORT में लगाकर दिये गए विडियो में देखकर Install करें। यह एक सामान्य प्रक्रिया है।
DOWNLOAD ACTIVEX  (E-SIGN PDF) AND ACTIVEX INSTALL
E-SIGN PDF – यह सिस्टम में install होना आवश्यक हैं। , E-SIGN PDF DOWNLOAD होने के बाद सिस्टम में Install करें।
DOWNLOAD ACTIVEX

Paymanager DSC Installation & ActiveX Setting

SOFTWARE FOR ACTIVEX SETTING

 E-SIGN PDF

CLICK HERE

 NETFRAMEWORK 3.5

CLICK HERE

 INTERNET EXPLORER 11

CLICK HERE
| | |
| --- | --- |
| | Paymanager DSC Installation & ActiveX  Setting |
Activex Setting करने के लिए आपको Internet Explorer में निम्न प्रकार से सेटिंग करनी है।
STEP-1 (सर्वप्रथम इंटरनेट एक्सप्लोरर में Tools (clcik-1) करना हैं। तत्पश्चात Internet Options (click-2) करना है।
STEP-2 (दिखाई गयी विंडो खुलने पर Security पर (Click-1) तत्पश्चात Custom Level (Clcik-2) करना हैं। Enable Protected Mode पर Tick हटाना है।
STEP-3 (अब यह विंडो दिखाई देगी)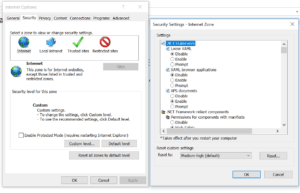 STEP-4 (नीचे दी गई सेटिंग Security में Internet Option पर क्लिक करके करनी हैं।)
ActiveX Controls and plug-ins  
| | |
| --- | --- |
| Allow ActiveX filtering | Enanble |
| Allow priviously Unuse ActiveX conntrol to run without promt | Enanble |
| Allow Scriptlets | Enanble |
| Automatic prompting for ActiveX controls | Enanble |
| Binary and script behaviors | Enanble |
| Display video and animation on a webpage that does not use external media player | Enanble |
| Download Signed ActiveX controls | Prompt |
| Download unsigned ActiveX controls | Prompt |
| Initialize and script ActiveX controls not marked as safe for scripting | Prompt |
| Only Allow approved domains to use ActiveX without promt | Enanble |
| Run ActiveX controls and plig-ins | Enanble |
| Run antimalware software on ActiveX control | Enanble |
| Script ActiveX controls marked safe for scripting | Enanble |
| Scripting:- All Seting | All Enanble |
नोट: उपरोक्त सेटिंग करने के बाद भी यदि कोई EROOR आता हैं तो Security में ही Trusted Sites पर क्लिक करके ActiveX Controls and plug-insAnd Scipting में All Setting ENABLE कर दें।
Paymanager DSC Installation & ActiveX Setting
---
Steps:-
To run Lync Web App in Internet Explorer, you must enable ActiveX controls.
Click Tools > Internet Options.

Click the Security tab > Custom Level.
Scroll down to ActiveX controls and plugins and click Enable for:

Run ActiveX controls and plugins

Script ActiveX controls marked safe for scripting

Click OK to close the dialog boxes, and then restart Internet Explorer.

For Internet Explorer 9 and later, you must also disable ActiveXFiltering, if turned on

---
Contact Us:
PARMANAND MEGHWAL
SR TEACHER GSSS DILOD HATHI, BARAN.
whatsapp : 9784379510
Mail to      :  rajteachers.net@gmail.com
PLEASE SHARE THIS POST
---